Sushma Swaraj's top achievements: From student leader in 1970 to Foreign Minister in 2014
Sushma Swaraj's top achievements from a student leader in 1970 to Foreign Minister in 2014. She died of a heart attack on Tuesday (6 August 2019) night. Sushma Swaraj was admitted to AIIMS on Tuesday at around 9.35 pm after complaining of chest pain, where her condition was critical. However, during treatment, the former foreign minister breathed his last at around 10:50 pm.
Who is Sushma Swaraj?
Sushma Swaraj was born on 14 February 1952 in Ambala(Haryana) in the house of Shri Hardev Sharma and Mrs. Laxmi Devi. His father was a prominent member of the Rashtriya Swayamsevak Sangh (RSS). Sushma Swaraj's brother whose name is Dr. Gulshan Sharma, he is an Ayurveda doctor and lives in Ambala and has a sister also, whose name is Vandana Sharma. She is an MA and Ph.D. in political science and professor of political science and contested from Safidon seat of Jind district of Haryana on a BJP ticket but lost to an independent candidate.
Who is Sushma Swaraj's Daughter?
Swaraj's daughter is Basuri Swaraj. She has studied from Oxford University and received a barrister's degree in law from the Inner Temple. She is a criminal lawyer like his father, Swaraj Kaushal, and practices in Delhi High Court and Supreme Court. Basuri came to the fore when she became her junior lawyer in the case of canceling the passport of former IPL chairman Lalit Modi along with her father Swaraj Kaushal.
Who is Sushma Swaraj's Husband?
Sushma Swaraj was married to Kaushal Swaraj on 13 July 1975. Two years ago, a picture of Sushma was in a great discussion with her husband. In this, she is seen standing with her husband holding her hand in the Parliament complex. Sushma tweeted this picture and wrote, 'After many years together, got a chance to meet' Governor Swaraj 'in the Parliament complex today. Sushma Swaraj's husband was the Governor of Mizoram between 1990 and 1993. He was also a Member of Parliament on behalf of Haryana Vikas Party from 1998 to 2004. Interestingly, between 2000 and 2004, both were members of Rajya Sabha. There have been few such occasions in the history of Indian politics when husband and wife were members of Parliament together.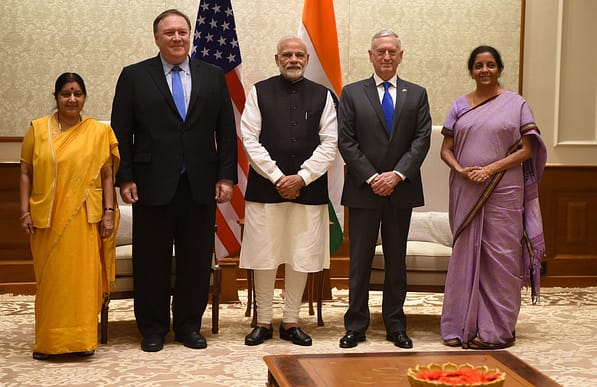 When Sushma Swaraj took charge in politics and made her own identity apart from her party. After that, She was the External Affairs Minister for 5 years during the tenure of Shri Narendra Modi between 2014 and 2019.
Apart from this, she had been the youngest Cabinet Minister in Haryana, Supreme Court lawyer, Chief Minister of Delhi, Leader of Opposition.
Political Journey Of Mrs. Sushma Swaraj
In 1977, Sushma Swaraj was sworn in as the youngest female cabinet minister in Haryana. At that time, he was only 27 years old.
In 1990 she elected a member of the Rajya Sabha.
In 1996, she was the Minister of Information and Broadcasting in the government of Atal Bihari.
She again became a minister in 1998 and was given the Ministry of Telecommunications and Information and Broadcasting.
She elected the Chief Minister of Delhi on October 1998
and Leader of the Opposition in the Lok Sabha from 2009 to 2014 as a result, she replaced Lal Krishna Advani, for instance, she took charge of the Foreign Minister between 2014 and 2019.
More Interesting Facts
50 Unknown and Interesting Facts About Mahatma Gandhi
Unknown Facts About Sonia Gandhi
25 Interesting Facts About Narendra Modi